COMPUTERIZED
MACHINE MANAGEMENT SYSTEM

Consolidate screening, CRF, bioanalysis and source data management within one utility

Xeeor CMMS is a modern maintenance and asset management solution for your team. From your desktop to your phone and even your tablet, Xeeor CMMS is easily accessible from anywhere at any time. Create work orders on-the-go, get notifications when tasks are updated, and receive alerts straight from your app when assets go down making your business run more efficiently than ever before.
Improve productivity with equipment templates; automatic calculation of uncertainty and pass/fail data point readings; automated emails, alarms & reports; QR coding; certificates, stickers & packing slips. Built-in tools to help ensure compliance with all widely accepted standards. Fully customizable, Xeeor CMMS can be tailored to support your business flow and data requirements rather than conforming your business to the software. Multi-language customization support for global deployment.
Xeeor CMMS is a scalable maintenance management system that can be configured to support a single site, or setup as a central enterprise system that can manage a fleet of plants worldwide.

Fully Integrated System


Interactions with OperationsPortable Device Support


Integrated Safety and Process Safety modules


International Localization


Financial Interface Support
BUILD YOUR CMMS
Mobilized Workforce and Streamlined Workflow
XeCMMS serves all industries and facilities that need maintenance work tracked and performed regardless of size or complexity. It can scale from a single site to multiple sites, ensuring standardization and efficiency across all locations.
MAXIMIZE ASSET LIFE AND LABOR PRODUCTIVITY
THROUGH AN INTUITIVELY DESIGNED AND INCREDIBLY VERSATILE CMMS SOFTWARE
XeCMMS, when combined with the power of IoT data from people, sensors and devices, can provide warning signals from assets—reducing unplanned downtime and increasing operational efficiency. With this data, it also enables near real-time visibility into asset usage across multiple sites, extends the useful life of equipment, improves return on assets and defers new purchases.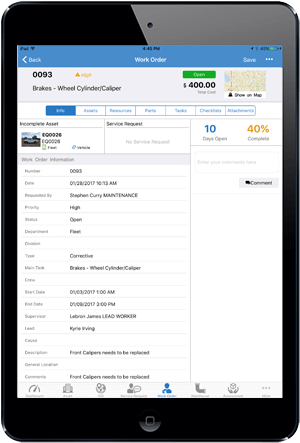 A Computerized Maintenance Management System (CMMS) enables organizations of various types to keep constant track of every vital asset, whether it is a machine, vehicle, building or a linear asset such as a street or pipeline. A primary CMMS function is to manage the maintenance program for those assets by assisting maintenance managers in scheduling repairs and preventive maintenance tasks, monitor work order progress in real-time and ensure regulatory compliance.
CMMS tracks assets, maintenance, warehouse inventory, customer service requests and operational performance – all in one place. Most computerized maintenance management programs also give maintenance teams the essential tools they need to conduct work in the field through the use of mobile devices.
A CMMS incorporates a central storage location and user-friendly dashboard tools for managing asset related data and information.It also generates valuable reports that make it easy to track work progress, asset condition, parts usage, material management and maintenance activity throughout the asset lifecycle.
WORK ORDER SOFTWARE DESIGNED TO STREAMLINE YOUR WORKFLOW
ORGANIZE YOUR OPERATIONS, BOOST PRODUCTIVITY, IMPROVE COMMUNICATION, TRACK COSTS, RECORD WORK HISTORY AND SO MUCH MORE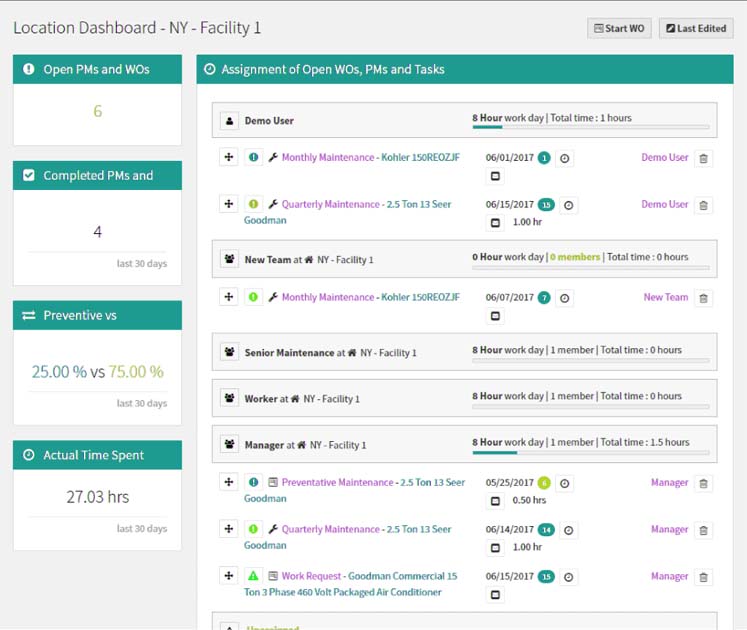 You shouldn't have to have 5 different screens open to understand what is happening at your building. Xeeor CMMS's Location dashboard allows you to easily do all of the following from one screen.
• Know who is working on what via your mobile device or desktop.
• View all WOs, PMs, Work Requests, and Problem Reports.
• View a calendar of current and upcoming Work Orders and PMs
• Set work priority so the right work gets done first
• Drag and drop to change work assignments
• Change due dates or defer work
• Set Work Order priorities (low, medium, high, on hold)
• Start a new Work Order
• View KPI such as actual time spent and planned vs unplanned work
• Download helpful reports that show which work was last worked on
• One click away from a work's detailed information
• One click away from an asset's detailed information
POWERFUL, YET EASY TO USE 
WORK ORDER SOFTWARE
Your technicians shouldn't require weeks of training to use a Work Order software.
Yet at the same time Work Order Software should give your technicians the power to know exactly what to do, the ability to easily log and document their work from mobile devices and automatically track key metrics.
• Provide clear detailed instructions on what needs to be done
• Automatic push and email notifications
• Leave comments with instant team communication via push notifications
• Attach pictures or files
• Attach invoices
• Attach parts
• Record time spent
• Track downtime
• Request Materials
• Mobile friendly. Start or close out easily on your mobile device
• Assign to a team or single user
• Printable
• Automatically logged when completed in asset's maintenance log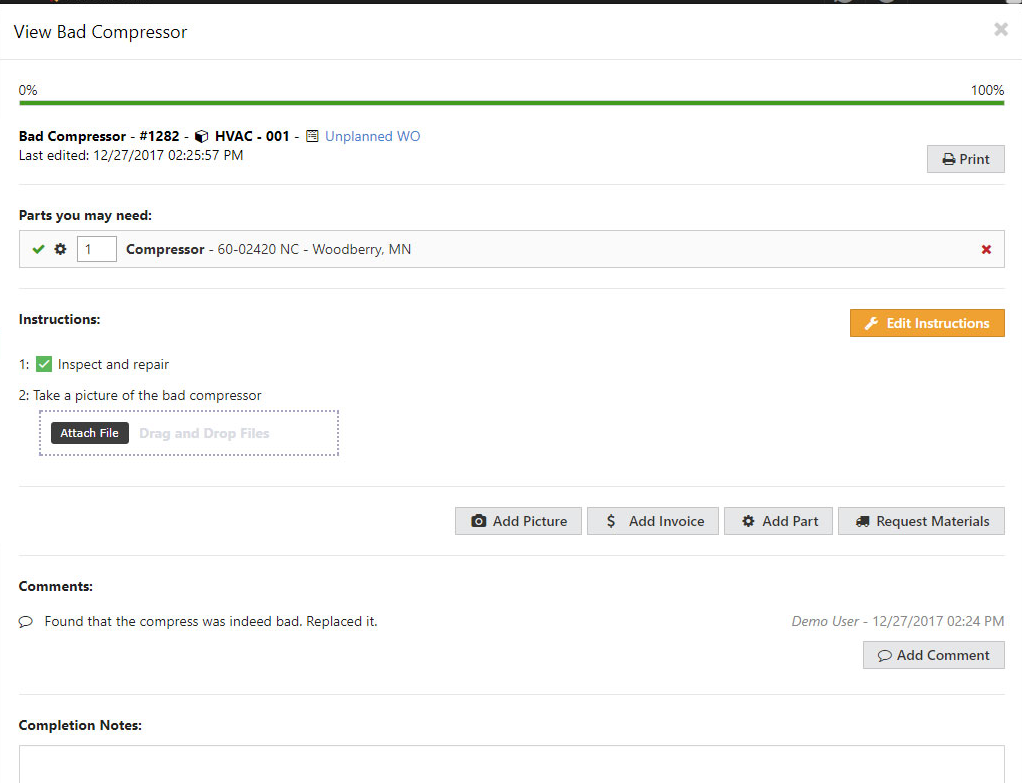 FLEXIBLE ASSET MANAGEMENT
KNOW EXACTLY WHAT YOU OWN WITH ONLY THE INFORMATION YOU WANT TO TRACK WITH ASSET TRACKING THAT ADAPTS TO YOUR NEEDS
MANAGE YOUR ASSETS 
THE WAY YOU WANT
Sick of complicated and crowded software that forces you to cram your asset information in set static fields? Or requires you to visit 5 different screens to get any insights into how your asset is doing?
We designed Limble's asset management to solve those problems and allow you to easily...
• Track only what you want. With our simple and completely customizable fields you can track Location, Make, Model, Manuals, Pictures, Mileage, Hrs Run, meter readings and so much more. You're only limited by your imagination.
• Centralized Asset Card. In one easy to use spot view everything relatable to your asset. View Asset Information, Work Orders, Preventative Maintenance, logs and reports.
• Complete and detailed Maintenance Logs. View all Work Orders, PMs, Work Requests in one easy to navigate screen on mobile or desktop allowing for faster diagnostics and an actionable audit trail.
• Real-Time reporting. Know exactly how much a single asset or group of assets is costing you. How quickly they are getting repaired (MTTR). How often they are breaking down (MTBF). What parts have been used on them. How much time has being spent maintaining them. And so much more.
• QRcodes for easy identification. Mark your assets with a unique QR code so you team can instantly look up the asset in the field. No hardware is required.
• Requires little to no training to use.
Automate and Simplify your Work Request Process
STOP WASTING HOURS ON THE PHONE OR IN YOUR EMAIL TALKING TO EMPLOYEES OR CUSTOMERS WHO ARE SUBMITTING WORK REQUESTS.
EASILY REPORT A PROBLEM 
FROM ANYWHERE BY ANYONE 
Xeeor CMMS's work request system allows anyone within your organization to report a problem with or without a login. It is as simple as using your phone to scan a barcode or visiting a URL and typing in what the problem is.
• No login required by requesters
• Automatically logged into your CMMS
• Automatic push and email notifications sent to your maintenance team
• Report problems from any mobile device or desktop computer
• Attach pictures along with the problem's description
• Automatically notifies the work requester upon work completion
• Customize which fields are available
• Attach "Report a Problem" barcodes to entire locations or specific assets
• No additional hardware is required
Simple, yet Powerful Preventive Maintenance Software
STOP THE REACTIVE MAINTENANCE CHAOS! AUTOMATED PM SCHEDULING, NOTIFICATIONS, TRACKING AND SO MUCH MORE 
EASILY SETUP AND MANAGE
AUTOMATED PM SCHEDULING
Stop wasting precious hours manually distributing PM checklists and following up with your team to make sure the work is done. Xeeor CMMS allows you to easily automate PM scheduling so the right work is delivered at the right time to the right technician.
• Automate PM scheduling by daily, weekly, monthly, yearly, events or meter readings.
• Automatic push and email notification when a PM is created
• View all open work and upcoming PM schedules in an easy to use calendar
• Drag and drop to change due date
• View priority of work
• Copy PM schedules between assets and mass bulk PM update
• Upon PM completion, the work is automatically logged in the asset's maintenance log
• Requires little to no training to use.
Real-time Actionable CMMS Analytics and Reports
MAKE FASTER AND BETTER DECISIONS WITH VISUALIZED MAINTENANCE DATA AND ANALYTICS AT YOUR FINGERTIPS
STOP MAKING GUESSES AND START
BASING DECISIONS ON REAL DATA
With XeCMMS you can quickly view how well your maintenance operations are running and glean maintenance insights that would have been impossible to know before.
With XeCMMS's reports you can answer all of the following questions and more:
• Has the right maintenance work been done?
• Was that work done on time?
• What is that work costing me?
• Which asset is costing the most and why?
• What is my average time to repair (MTTR)?
• What is my average time between failures (MTBF)?
• Where is my maintenance team's time is being spent?
• How many parts were used and what did it cost?
• Is more preventive work or unplanned work occurring?
• Which location is performing better and why?
And so much more...
Additionally Executive Summary Excel Sheets are automatically emailed every two weeks or on demand. Allowing you to easily share with management in detail what assets you are tracking, when the last PM was completed, when the last WO was completed and so much more.
Parts and Inventory Management
Start realizing the savings a properly maintained inventory can bring
GET CONTROL OF YOUR
INVENTORY
Not sure what parts you have in stock or where they are being used? Don't know when your parts will run out or if your technicians will have the needed parts to do their jobs?
We designed XeCMMS's parts management to solve those problems and more...
• Get instant push and email notifications when a part's quantity is low. Keep the right number of parts in stock by receiving instant and automatic push/email notifications when the quantity of a part is below a custom set threshold.
• Technicians instantly know if the part is in stock from inside of a Work Order. If the part is not in stock easily check other locations to see if it is available.
• Automated parts tracking. As Work Orders or PMs use parts they will be automatically subtracted from your inventory.
• Know part usage. View parts log to see where the part is being used and by who.
• Eliminate unused parts. Know when a part has gone stale.
• Real Time Reporting. Know what parts are used where and how much it is costing you.
• Optimize stock levels. Instantly view forecasting for a part to see how many parts may be used within the next year.
• Barcode lookup. Make your inventory easy to track and access with custom QR codes.
BUILT YOUR CLOUD
Includes all Xeeor Cloud Products and the ancillary services to enhance them.
Xeeor and the Xeeor Logo, XE Compute-Cloud, XeVault, XeClin and 21CRO are trademarks of Xeeor, Inc. and may not be used without its permission. All other brand names mentioned herein are for identification purposes only and may be the trademarks of their respective holder(s).